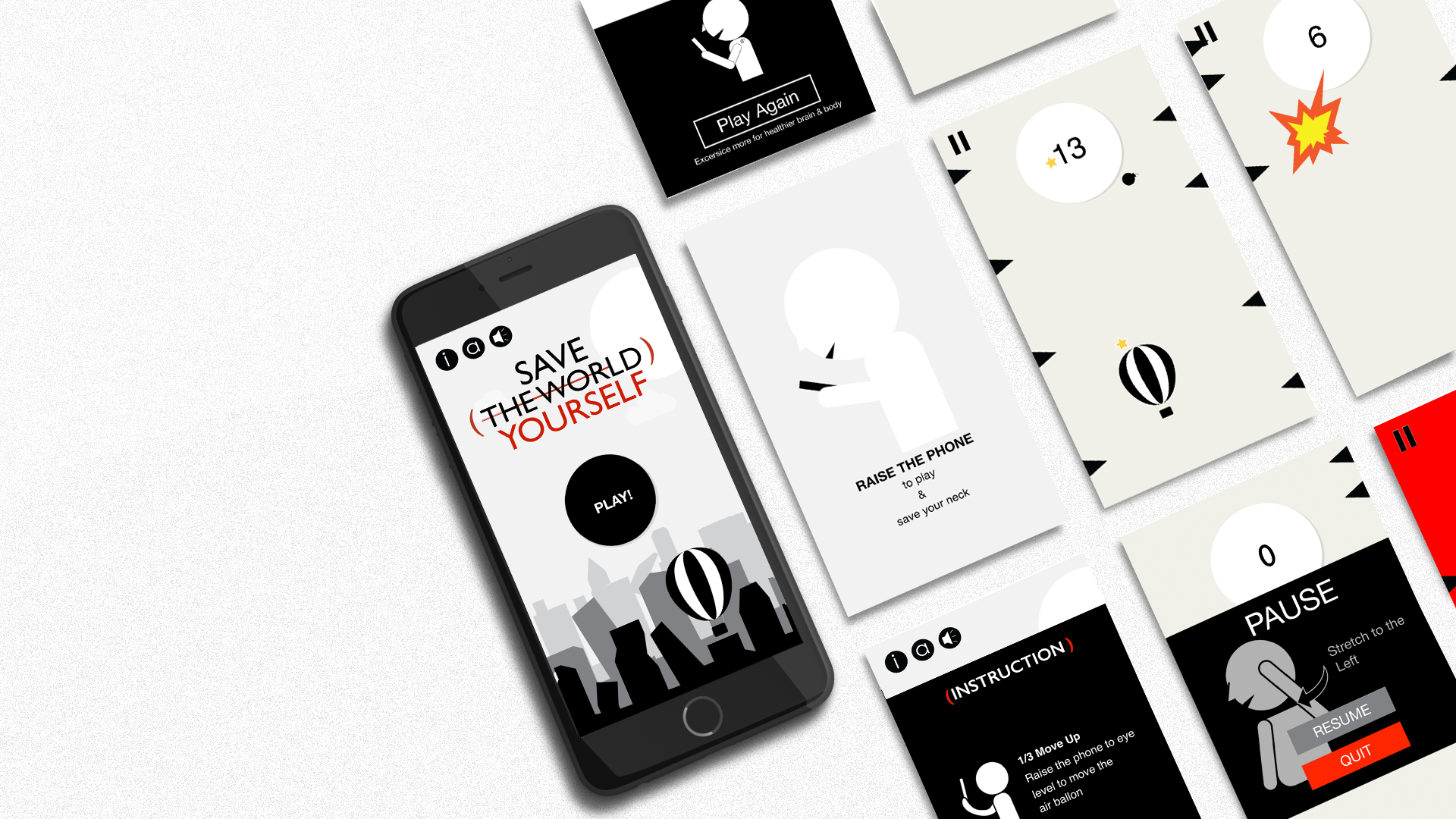 UP
game app that help user exercise their neck when they are using their phones
Today, our phone become as an extension of our body. Life becomes so convenient with the help of mobile phone. Despite the concerns and issues that mobile phone brings, we should admit that technology such as smartphones cannot be separate in our daily lives.

UP is designed for mobile phone users to remind themselves to have proper posture when they are using their phones in order to avoid chronic health problems. The main goal of the app is not to improve the posture of the user but to criticize the smartphone addiction of modern society.
Role

Game Designer & Developer,
UX & UI Designer
Tool

Swift, Spritekit
Platform

iPhone, iPad
- Mind your posture while reading- - Mind your posture while reading- - Mind your posture while reading-
INTRO
What shapes our current
(society)

body?
Media and Technology.
In the digital age where our time is mostly with our electronic devices, media and technology become the main part of our lives. They are invented to bring convenience to our daily lives. It ends up we are adapting ourselves to fit the requirements of the use technology. The problem is clearly depicted through our posture.
- Mind your posture while reading- - Mind your posture while reading- - Mind your posture while reading-
WHY DO WE ALWAYS TO LOOK DOWN?
Problem
SMART PHONE
ADDICTION &
POSTURE &
HEALTH
According to the American Chiropractic Association, people already have a hard time to maintain a proper posture on their daily task. As they start to use devices and look at the screens, they will easily lean ahead and maintain this bad posture for a long time.

Just simply watch yourself when reading this text, most of you would find yourself hunched over. This might be the your most comfortable position but, without correcting the posture will lead to various severe side effects. "Text Neck" is a new term for the neck problem that was caused by people facing down or overusing their electronic devices, especially Mobile phone, for a long time.
"HOW MIGHT WE LET PEOPLE
(LOOK UP)
AVOID CHRONIC HEALTH PROBLEMS WHILE USING THEIR SMARTPHONES WHEN PERFOPRMING DAILY TASKS?"
GOAL

1

GOOD POSTURE MEANS
GOOD HEALTH
Raise the electronic devices, phones or computer, to the eye level to prevent tilting head for a long time. A simple act but not usually performed.
2

AWARENESS IS KEY
Understanding the harmful consequence of bad posture can give users idea to have more selection on improving their posture
3

CREATIVE,
FUN & ENTERTAINING
Interrupt users improper posture bahaviour by introducing them the proper posture in a creative way.
4

HOOK:
Built good habit
Entertain user and let them enjoy to maintain the proper posture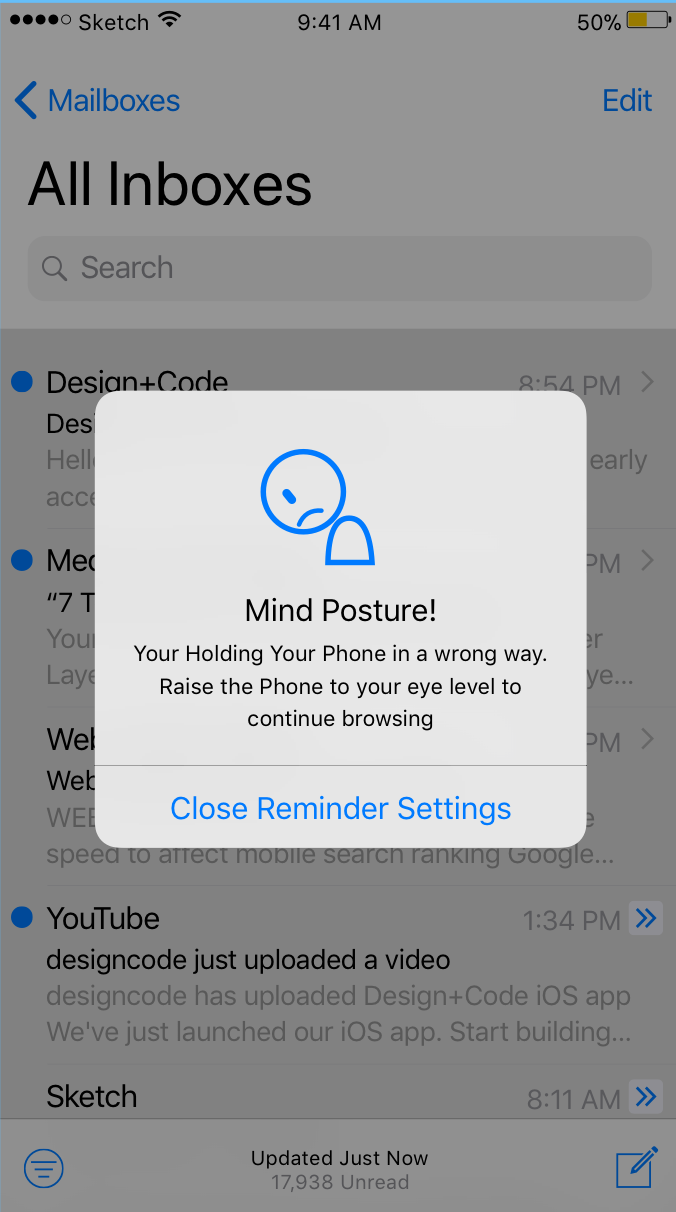 REMINDER NOTIFICATION
for iOS Apps
Prototypes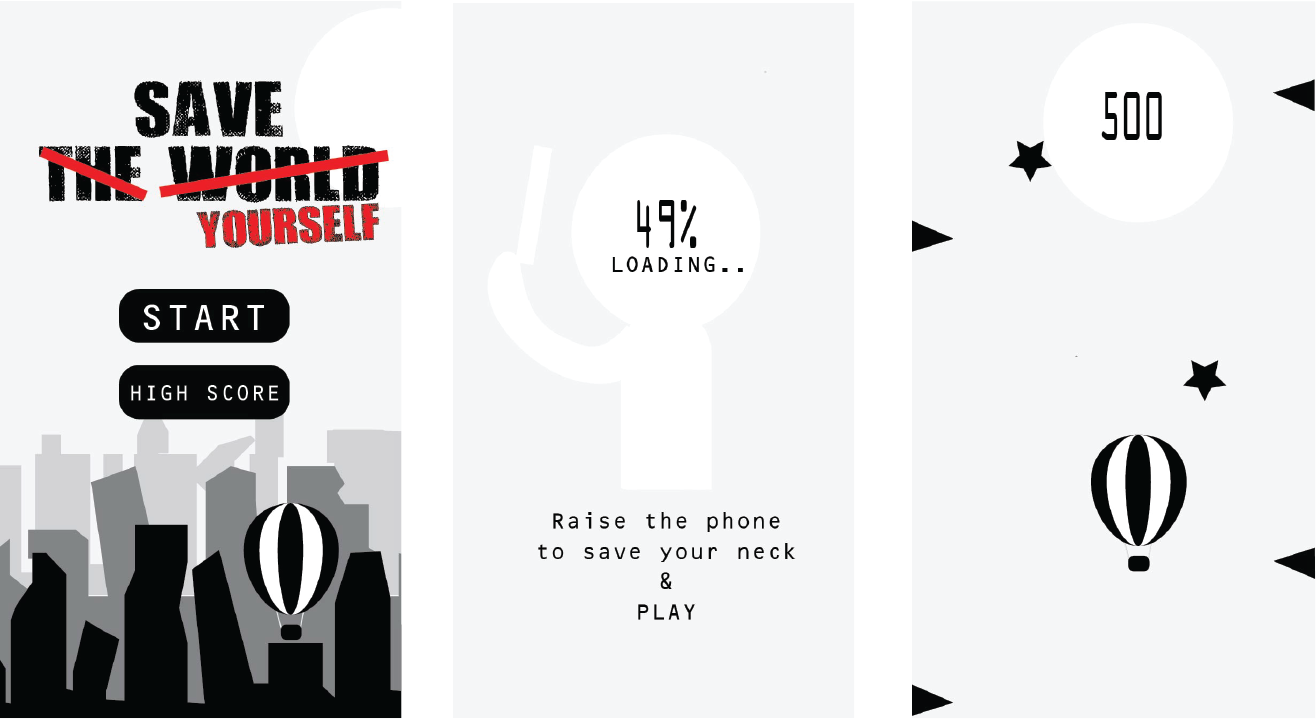 SAVE THE WORLD
Web Game App (p5.js)
Logo, Colors, Icons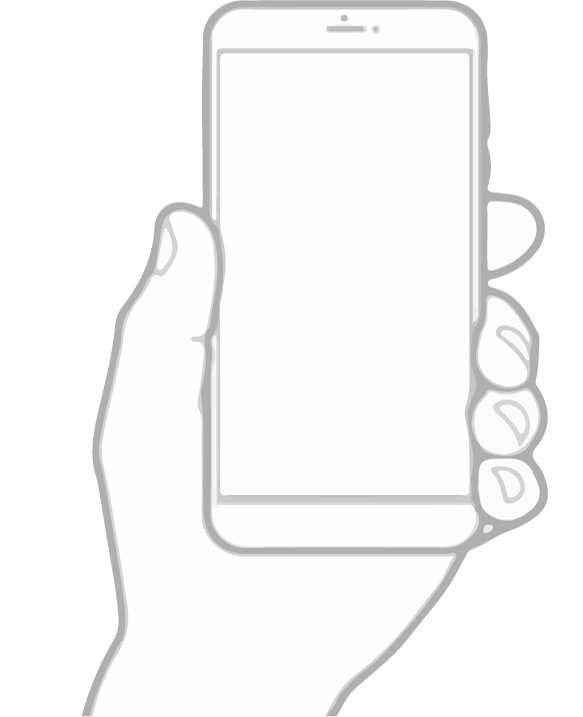 "I want to Thank you. Every time I'm using my phone, it will remind me of your game. Even though I only played it once, but it keeps reminding me to sit in a proper position every time I'm using my phone"

"The way how you control the game is very fun, interesting, and addicting. If you can put more levels on your game to make it complete"